/product design
Role: Graphic Designer, Product Designer, Product Supervisor
Client
: 826LA
Tools
: Adobe Illustrator
Store Manager
: Carrine Mangold
MMR is a memory card game designed for children and adults of which I designed and supervised the production of. The inside of the cards uses primary color beacuse of the whimsical theme of the store (Time Travel) while the packaging uses a minimal pallet to bring an aesthetic balance. MMR is currently sold in 826LA stores (MarVista & Echo Park) and in their online store.
826LA is a local chapter in one of the largest non-profit American writing programs.

Role: Graphic Designer, 3D modeler, Fabricator
Cilent: Nepali Pustakari
Tools: InDesign, 3D printing, Laser cutting
Design Lead: Beth Elliot

Chaku is a brand for a familiar Nepaliese molasses candy; Pustakari. The mockup of the Pustakari candy shown above (left or top) is made out of air-dry clay which was hand-painted and debossed by a custom 3D printed stamp.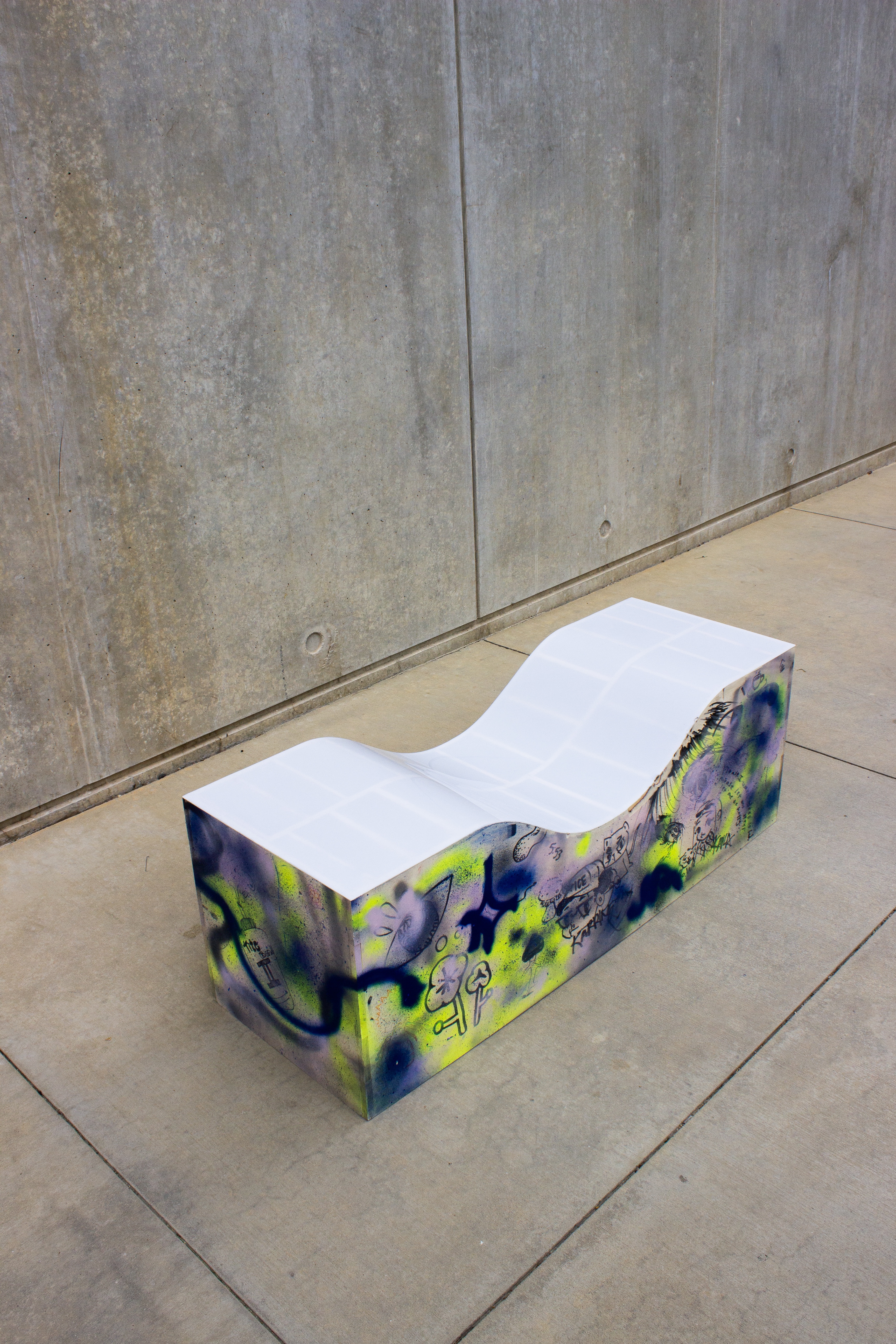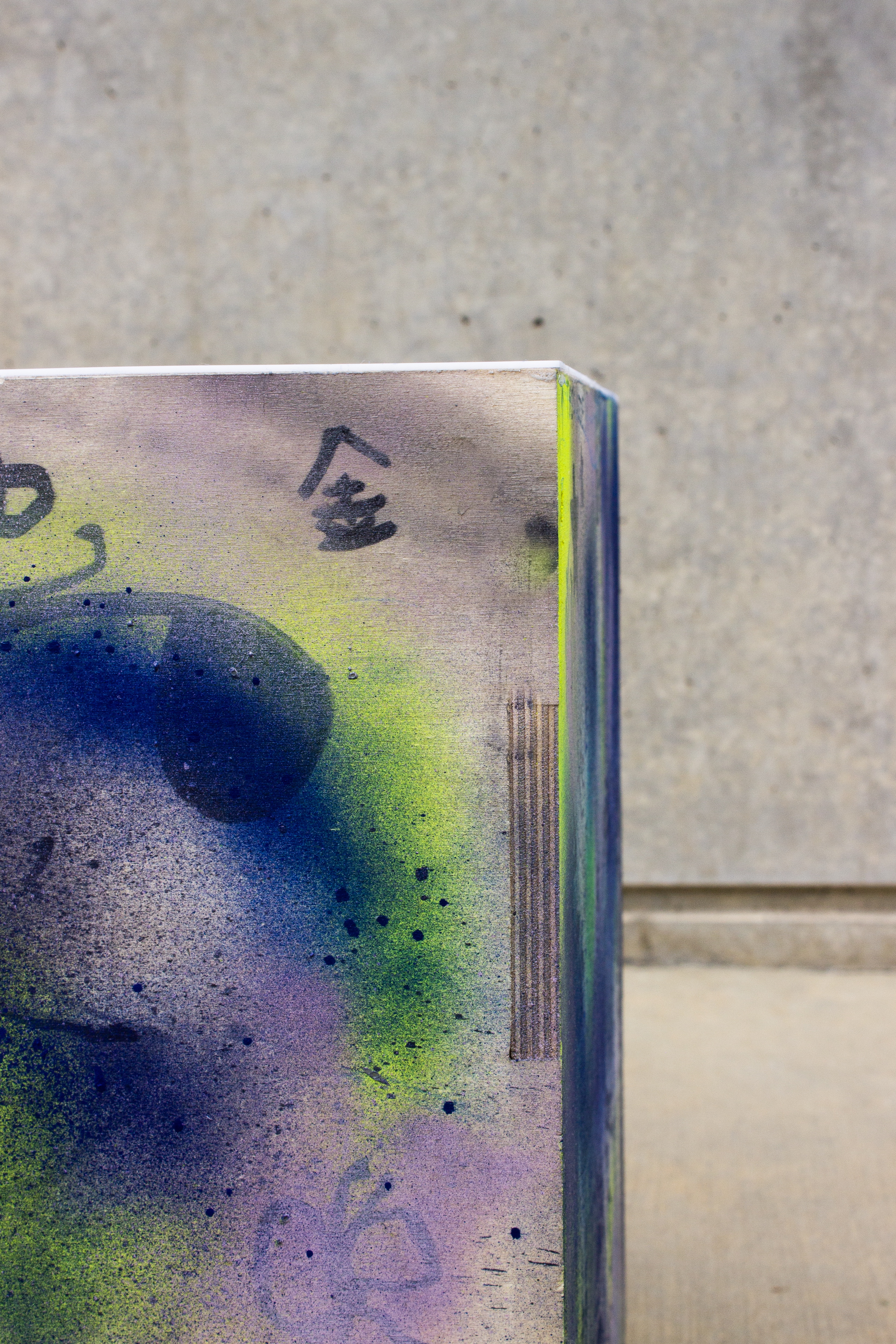 Role: Graphic Designer, Fabricator
Size: 4ft x 16in x 16in
Cilent: UCLA Arts
Tools: Illustrator, CNC, Woodshop
CNC supervisor: Jonathan Cecil

U-Bench is created using Birch plywood, polycarbonate, and a 3-axis CNC milling machine. The dimensions are 48"x16"x16". The U-Bench uses finger joints, wood glue, and planks. The bench with it's u shaped dip, invites individuals to nest in the middle, or even lay atop it. I was inspired by the chaos and beauty that occurs in a collage of street art, public art, and public furniture. The communal idea of public benches was an invitation to peers at UCLA to be rebellious on an otherwise elegant design.
Role: Product Engineer
Size: 6ftx 15in x 2in
Cilent: Christian Moller
Tools: Arduino, Load Cells, LEDs
Electronics Facilitator: Chandler McWilliams

Softness is a unique rug. It uses LEDs and load cell technology to create a warm vibration when in contact with a person.This project grew out of my fondess of comfortable interactive art gallery pieces and my interest in making an Arduino based project.

Role: Prop Designer, Fabricator
Size: 6ft x 18in, 25in
Cilent: UCLA Film & Television
Tools: Illustrator, CNC, Woodshop
Musical Director: Uma Supatra

Kissing Blocks is the center prop of a musical Myths and Hymns. It's function was to be used as a ladder, a cot, and a coffin. This was a challenge solved by simplify the shapes of each object. The final design was a two piece blocks which resembled a large jigsaw puzzle piece. The Kissing Blocks had to be carried 3 times in the duration of the 40-minute musical which asked for finger digits. The prop has minimal, circular finger digits on the short faces of the ladder portion to make lifting easier.
/web design
Role: UI Designer
Cilent: Beth Elliot
Tools: Figma

Softness Screen is a mockup of a 4-page screen designed to assist with the Softness product and it's function. Each page has a scroll regarding to the question on the navigation page title.

Role: User Interface Designer
Client: 826LA
Tools: Figma
Project Manager: Carrine Mangold

E-zine is a digital preservation of a paper zine of poems and stories by young writers. I was asked by 826LA to come up with a way to display the zine for future readers. Here, I carefully designed an mock up in Figma to lead viewers through the zine using a scroll per "course" page and a lower navigation for the next page to mimic the left to right flow of a zine.

Role: Web Developer
Client: Hannah Pang
Tools: HTML, CSS, Glitch
Project Manager: Chris Cueller

Birthday Cards was created to feel closer to my long distance best friend. I compiled a series of notes and photographs dedicated to her, created by friends and myself. Each page included a note on the left side and photographs on the right and were both individually scrollable. ing to the question on the navigation page title.

Role: UI Design Intern
Client: NurLabs
Tools: Figma
Project Manager: Sumita Jonak

At NurLabs, I had the resposibility for leading the visual language of the website. I created preliminary logo designs, infographics, and website mockups. The website uses purple, gray, and black to maintain a minimal tone while creating emphasis on the start-up's mission; lung cancer detection.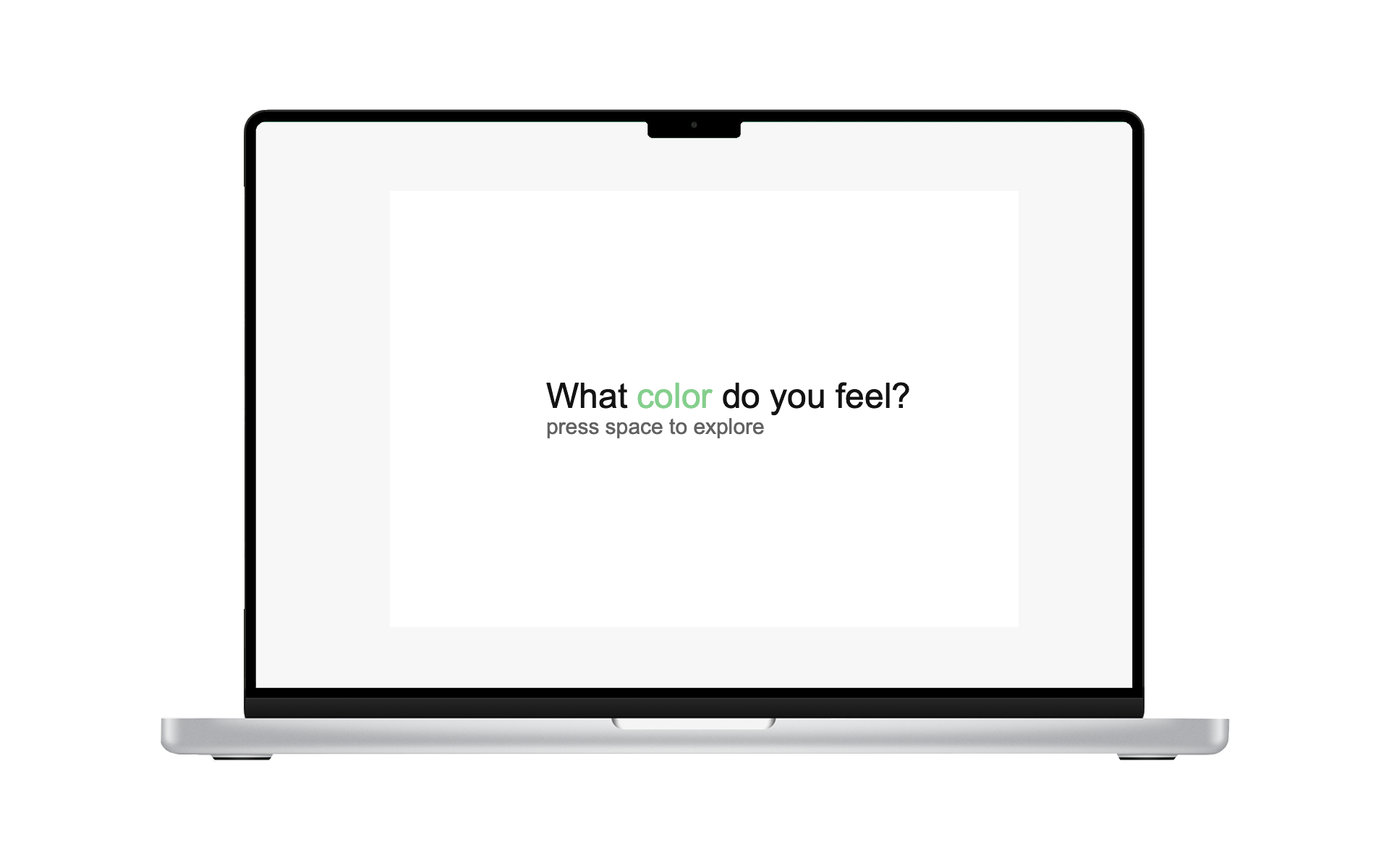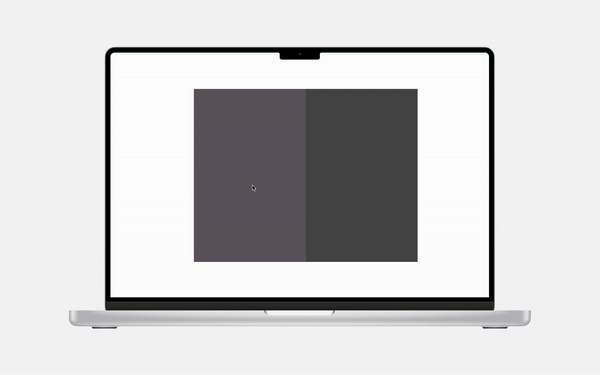 Role: Software Designer
Client: DMA 24
Tools: Processing Software
Processing Coach: Casey Reas
What color do you feel? was an expirement about color that heightens sensitivity to color changes. The Procesing software creates subtle changes in colors when the mouse hovers over the opposite color block. More so, the color is changed by using the lerp color function from the Processing library.




/mural design
Size: 12ft x 5ft
Role: Graphic Designer, Muralist
Client: City of Palo Alto
Tools: Adobe Photoshop, Exterior Paint
Project Manager: Nadya Chuprina

Rich in Color
is a mural commissioned by Palo Alto City Hall for the national Black Lives Matter mural movement in 2020. I was commisioned to paint the letter "L" of lives. The colors are referenced from the Pan African flag symbolizing wealth, nature, and prosperity of the African Diaspora.
Click to view list of BLM street murals across USA.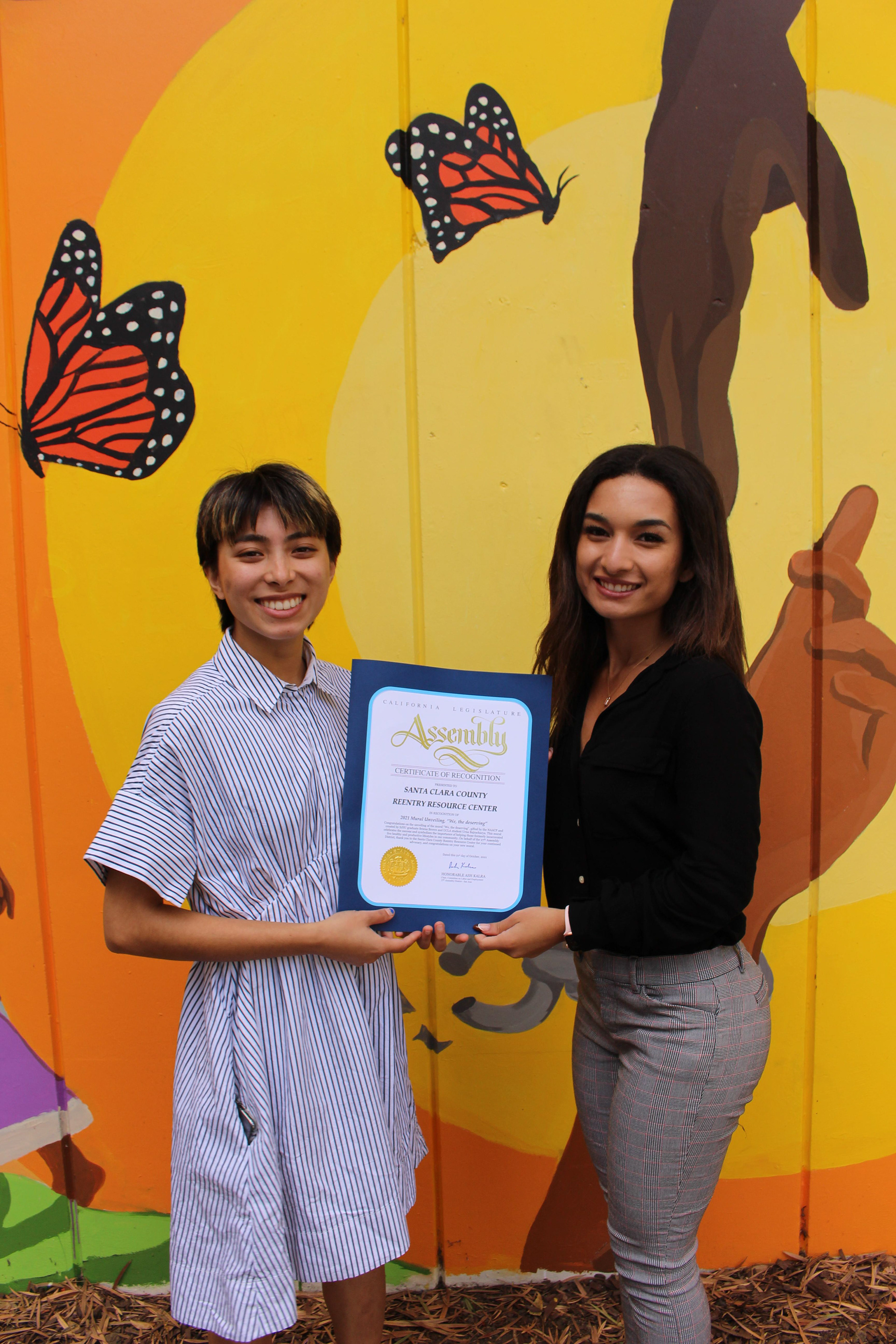 Size: 30ft x 11ft
Role: Graphic Designer, Muralist
Client: NAACP, Santa Clara County
Co-organizer: Briena Brown
We The Deserving is a mural commissioned by NAACP, The National Association for the Advancement of Colored People, as a gift to Santa Clara County's Re-Entry Center. As the mural designer, I rendered a digital drawing createtd by artist and co-organizer Briena Brown to execute it to create a life size mural to brighten up the entrance of the rehabilitation center.
Click to view press from KRON4
Size: 5ft x 22ft
Role: Graphic Designer
Client: SYDE Studios
Project Manager: Sapana Shakya
Transforming is a work in progress mural for a private residence. This mural's aim is to compliment the Gingko tree infront of the mural wall. The 20ft mural spans three floors of the residence. In using the changing color of a night sky at Floor 1 that transitions into day break at Floor 3 is a metaphor for transformation in nature. The subtle rythmic lines across the mural design represent a single Gingko leaf's biology lines.

.
Size: 9ft x 8ft
Role: Graphic Designer
Client: SYDE Studios
Project Manager: Sapana Shakya
Passion Flower is a work in progress mural for a private residence. This mural is for a wall behind a descending flight of stairs. The wild passion flower's unique shape and structure aims to inspire endless creativity.

---